Arcana Swarm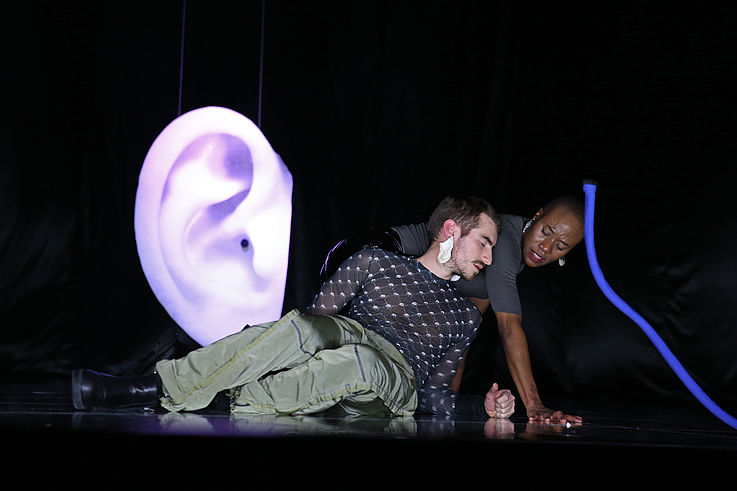 What is joy when its ephemerality and fragility tend towards its own dissolution? In this new work the performers embody the emotional complexity of joy which constantly collapses. In a visually playful set where three human- sized sculptures are placed the performers unfold a choreographic swing of of joy that turns into horror. "Arcana Swarm" is a new HAU production for seven
performers and the third part of the work cycle "The Staggered Dances of Beauty," which deals with scenarios and varieties of our bodies exposed in a radically changing world. For this piece, Válastur works again with the technique of "morphing" as a transformative force. The body shows the affects and effects that derive from the tensions of the current technological, environmental and political conditions of a precarious and anthropocentric world.

Concept, script & choreography: Kat Válastur/ Performance: Juan Pablo Cámara, Ixchel Mendoza Hernandez, Gaetano Montecasino, Ogbitse Omagbemi, Tamar Sonn, Sarah Stanley, Tiran Willemse / Light design: Martin Beeretz / Sound desigh: Peter Breitenbach / Set design: Leon Eixenberger / Costume: Kat Válastur / Dramaturgical advice: Einav Katan-Schmid, Maja Zimmermann / Outside eye: Alexandra Balona / Yiannis Papachristos / Assistance choreography: Kévin Quinaou / Production management: HAU Artist Office / Sabine Seifert / Touring & distribution: HAU Artist Office / Nicole Schuchardt

Production: Kat Válastur / HAU Hebbel am Ufer. Supported by: The Fondation d'entreprise Hermès as part of its New Settings Program.
Co-production: Théâtre de la Ville (Paris), PACT Zollverein (Essen), Theater Freiburg. Funded by: Capital Cultural Fund (Berlin), Berlin Senate Department for Culture and Europe. Residency support: STUK Leuven, Tanzhaus Zürich, Centrale Fies / Live Works.